Training system for manual operations
Prototypes
Training system for manual operations
Based on a modular hardware and software architecture, the training station is an experimental adaptive system used to learn the correct way of assembling products without a human instructor. The adaptation aims to adjust the instructions for the user according to: the condition of the operator, the chosen subcomponents, the performance in the execution of the task and the detected user profile. The tablet components required for training are positioned on the large screen built into the training table.
The condition of the operator is determined by merging data from biosensors, but also based on shots of the face and posture.
The pre-adaptation of the training aims to customize the type and content of the instructions according to the results obtained in the previous experiments. The selected components and task performance are determined by motion sensors and 3D depth cameras.
Recommending the next training step in conjunction with real-time adaptation depending on the context is done using Artificial Intelligence (AI) techniques. The AI algorithm training stages were established as part of experiments targeting various categories of users (real operators, students, etc.).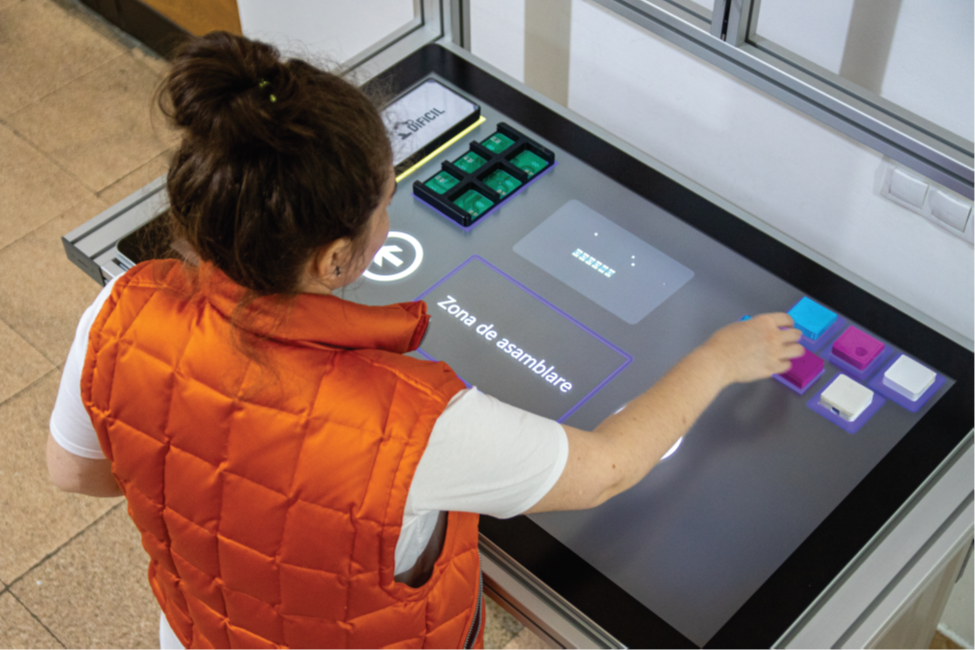 Learn more about the types of equipment used in our organization.
Prototypes
Production system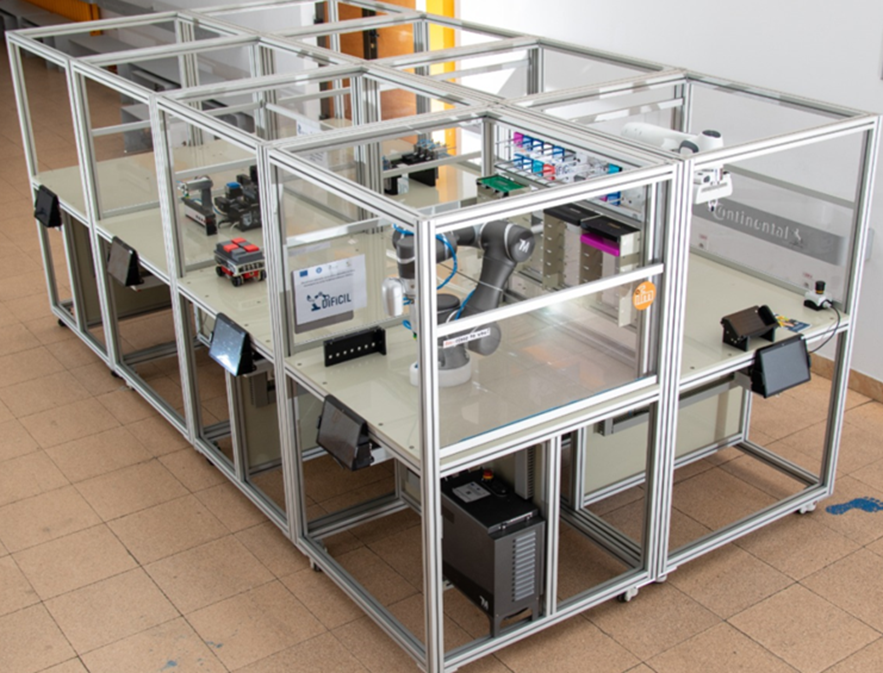 The production system is a smaller scale prototype,  with a complexity close to that of a real manufacturing system. Through its concept, the production system  prototype covers a wide range of industrial manufacturing scenarios and allows for the testing of technologies in a realistic environment.
The prototype has eight workstations (modules) designed in accordance with Industry 4.0 principles, which allow for: interconnection, transparency of information, technical assistance and decentralized decisions.
The 8 workstations can be placed as needed in different topologies, and the flow of materials is provided by a fleet of vehicles which are self-guided to assemble a customizable product (a modular tablet). Two collaborative robots are provided to allow collaboration with humans both in loading the semi-finished products in the system and in completing the customer's order.
The prototype allows for distributed control of industrial control (PLC) and execution equipment based on the IEC61499 standard. A multi-agent system allows for the execution of customer orders according to the rules established by the line manager.
In the case of highly customizable orders, the automated system, together with a human operator, can produce unique versions of the product.
Are you an organization that supports research? Do you share our confidence in the role of research in development and want to join us?