Human-machine interaction
Learn more about the systems used by our prototyping team.
Equipment
Human-machine interaction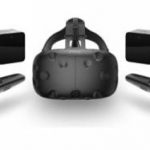 HTC Vive
The Vive headset has a refresh rate of 90 Hz and a 110 degree field of view. The device uses two screens, one per eye, each having a display resolution of 1080×1200(2160×1200 combined pixels). Safety features include a front-facing camera that allows the user to observe their surroundings without removing their headset. The wireless controllers are the hands of virtual reality, making a more immersive experience for the user.
Read the specifications
Are you an organization that supports research? Do you share our confidence in the role of research in development and want to join us?